What is FUE?
Follicular Unit Extraction, more commonly referred to as FUE, is one of the two modern hair transplant techniques. FUE is a minimally invasive hair restoration option that demands skill and precision to achieve the best result.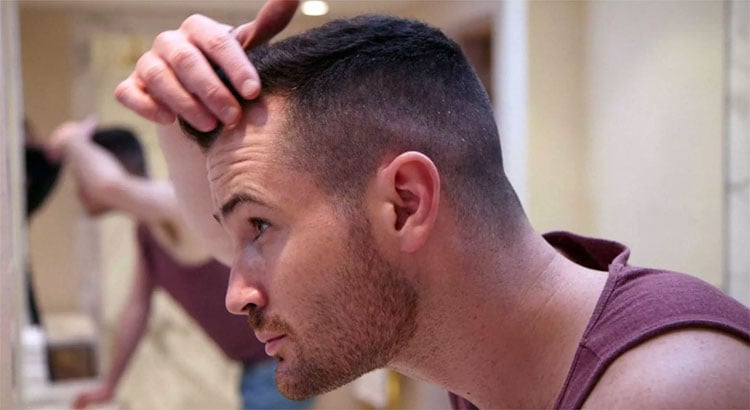 How FUE works
FUE works by extracting naturally occurring groups of one to four hairs, and transplanting these to the area of the scalp – typically the area that is balding.  
Surgeons will first work to remove groups of between one and four hairs. These groups of hairs are typically extracted from the sides of the head or back of the neck, using a specialised extraction instrument less than 1mm in diameter. These follicles are then transferred to the recipient area of the scalp and implanted using a powerful stereo microscope. 
We take great care to implant the hairs at the correct angle to mimic the old hair, just as it would naturally grow. 
What is the difference between FUE and FUT?
The difference between FUE and FUT is that during FUT the surgeon removes an entire strip of donor skin from the back of the head and extracts the hair follicles from this strip. However, in FUE, the individual follicles are taken directly from the scalp. 
In FUT, the entire strip of the hair is harvested in one go and then dissected into individual follicles later. This leaves a very distinctive and noticeable lateral scar along the back of the head. 
During FUE, groups of between one and four hairs are individually extracted from the scalp and transplanted to the new area of the scalp, trying to mimic the pattern of the hair that used to grow there. This leaves little to no noticeable scarring on the scalp. 
When it comes to recovery time, there is also a noticeable difference between FUE and FUT. In FUE hair transplants, there is minimal bleeding, and recovery is usually complete within seven days. However, during FUT, as an entire strip of the scalp has been excised, it often takes weeks for the scars to heal over.  
The results of FUE hair transplants far outweigh the results of FUT hair transplants, leaving a high-quality, natural finish to the hair. 
Is FUE right for me?
It can be hard to know if FUE is right for you, or even if you are a good candidate for FUE hair transplantation. One of the things that you need for FUE is a healthy hair growth at the back and sides of the head, in order to serve as a donor area for follicles to be harvested from. Other factors, such as hair colour, texture and waviness or curliness may also affect the cosmetic result. 
The quickest way to find out if FUE is right for you is to book a consultation. We can easily help you with any questions, and determine whether or not you would be a good candidate for FUE. 
Find out if you're a good candidate for FUE →
Does FUE hurt? 
FUE is a minimally invasive surgical procedure that is administered under local anaesthetic, pain is minimised and most patients do not feel anything at all. You will be conscious for the entire time that the procedure is administered. 
There will be some mild discomfort during the recovery process, but this only lasts around seven days. The risk of complications as a result of FUE is also extremely low. 
How much does FUE cost? 
There is no one price fits all when it comes to hair transplants, and they can be an expensive procedure – depending on how extensive the work is. The cost can vary depending on a number of factors. 
Read more about the cost of an FUE hair transplant →
The results of an FUE hair transplant
FUE is widely known to be the best hair transplant technique currently around. What makes FUE so remarkable is the way hairs are implanted: experienced specialists carefully map your hair growth before implantation so they know where and on what angle to place each follicle. 
It's an exacting process that takes a lot of experience and expertise, but we believe the result is worth it: with a successful FUE transplant, donor hair grows, moves and feels the way it used to. This is the highest-quality hair transplant available.
As this is your natural hair, just moved from place to place, it will grow exactly as normal hair and is permanent. There is no need for pills and potions, just enjoy your natural hair.
What is FUE?
FUE (follicular unit extraction, or sometimes referred to as follicular unit transplantation) is a type of hair transplant surgery that involves extracting individual hair follicles from a donor part of the body, usually the sides and back of the head.
These individual follicles are then implanted in the areas that are affected. Typically, with the men suffering from male pattern baldness this will be the classic horseshoe area.
How does it work?
During the process, individual follicles – typically between 1 and 4 hairs – are removed under local anaesthesia. The extraction procedure utilises a micro surgical extraction instrument, between 0.6mm and 1.0mm in diameter, to remove the follicles.
The surgeon, using specialist micro surgical needles, then punctures the scalp area that is to receive the grafts. Our surgeons are experts at blending the hair in, inserting the grafts at an angle and density that matches the original hair, so it will resemble a natural and realistic hair pattern.
How long does it take?
An FUE hair transplant can be undergone in either one long session, or several smaller sessions. It tends to be more time consuming than strip surgery, but does not leave the obvious and typical scars that strip surgery does.
The length of time for an FUE procedure can vary, but it usually depends on how many grafts are needed. A smaller procedure, where only around 200 grafts are needed, can be completed in a couple of hours. However, a larger procedure of around 2,500 to 3,000 grafts will require a session that stretches over two days.
How long does it take to recover?
Unlike strip surgery, FUE hair transplantation does not require large areas of the scalp to be harvested. There is also no linear incision on the back of the head, nor does it leave a linear scar.
As individual follicles are removed, it only leaves small, puncture scars, which are practically invisible to the naked eye. There is hardly any post-surgical pain and discomfort – with the average recovery time being less than 7 days.
How long do results last?
Once you have undergone FUE, the results are permanent. While the initial transplanted hair will shed a few weeks after treatment, it will grow back strong and healthy.
Hair transplant surgery can be a lifeline for many people, providing boosts to confidence that would otherwise be impossible. But how do you know if you are a good candidate for this kind of surgery? 
Am I a good candidate for a hair transplant? 
Typically, men whose hair loss has progressed beyond class 3 or above on the Norwood Scale are good candidates for hair transplant surgery, as long as their pattern has stabilised. If your hair loss has been progressing for five years, you are probably also a good candidate. 
Read more about the Norwood Scale →
Remember that before you decide to have surgery, you need to think carefully about your expectations and discuss them with your surgeon. 
Hair characteristics 
There are several characteristics of the hair that may or may not make you a good candidate for a hair transplant. Factors like hair colour, texture and waviness or curliness will affect the cosmetic result. 
Hair colour 
Hair colour is one of the biggest factors that will determine how effective the result is. This is due to the contrast between hair colour and scalp colour. The bigger the contrast between the two, the more obvious that balding appears. 
Those who have similar hair and skin colour, (e.g. dark skin and dark hair, or light skin and light hair) are less 'noticeably' bald than those who have a high contrast between the two. This means that they are typically good candidates for hair transplantation. 
Hair density 
Hair density is one of the biggest factors when determining who will be a good candidate for a transplant. 
Those who have good hair density tend to be good candidates for hair transplantation surgery. Specifically, surgeons will look for a good density of hair follicles around the donor areas of the scalp – that is, to say, the back of the head and the sides of the scalp. This is where the donor follicles are taken from that will then be used to cover any areas of balding. 
Conversely, if someone has a low density of hair follicles, they will probably not be a good candidate for a hair transplant. You need to have a moderate-to-high level of hair density in order to be able to transplant donor follicles across the scalp. 
Hair texture
When looking at hair texture, those with curly or wavy hair can usually expect better results with less follicular units used. Afro-Carribean hair is a great example of this. Although Afro-Carribean follicular unit density tends to be lower than Caucasian or Asian hair (0.6 FU/mm2 vs. 1 FU/mm2), the fact that the curls are so dense creates the impression that more of the scalp is covered – creating a better result. 
Hair thickness
Similarly to hair texture, hair thickness can determine whether or not a hair transplant will be successful. Those with thick hair require fewer drafts to get the same cosmetic effect as those with thinner hair. This is because the appearance of baldness is due to light penetrating past the hair and then being reflected off the scalp. Those with thicker hair will be able to block more of the light from being reflected off the scalp, resulting in a better cosmetic effect. 
Scalp flexibility
Scalp flexibility, also known as scalp laxity, is also something that is considered when determining suitability of a candidate for a hair transplant. If you have low laxity of the scalp (i.e. a tight scalp) then it will be more difficult to remove follicles from the scalp and transplant them, as opposed to someone who has high laxity (i.e. a loose scalp). 
It's important to consider all these factors together when determining whether someone is a good candidate or not. Whilst someone might have a high density of hair follicles in the donor areas, they may have other unfavourable hair characteristics that offset the benefits of this density. 
The quickest way to determine whether or not you will be a good candidate is to book a no-strings, one-on-one consultation with one of our expert surgeons. 
Hair Transplant Procedure
FUE Hair transplantation is a minor procedure carried out under local anaesthetic. You will be perfectly awake and can chat to the surgeon during it. Local anaesthetic is injected into the donor area of the scalp (the anaesthetic does sting a little but is quite bearable and goes numb very quickly) and then the desired number of hairs are extracted one by one from it. They are carefully harvested in a spread pattern to minimize the visual decreasing of density in the donor area
Then, the balding area is also anaesthetised and numerous micro-incisions are made using a specially shaped micro-needle. The grafts are then placed into these incisions.
After the anaesthetic wears off at 3-4 hours the scalp will feel a bit tight and sore but this soon eases and returns to normal in a few hours. Simple paracetamol or co-codamol will help. Minimal swelling is sometimes observed, and is completely normal. The operated areas of the scalp will appear slightly pinker than usual for a few days but this soon passes.
The tiny hair that is transplanted normally falls out within a couple of weeks. This is normal and due to "thermal shock". The hair will then grow normally from the hair root and will be noticeable by approximately 3 months and carry on growing as fast and as long as your normal hair.
If the Doctor is transplanting into a thinning area, then this can occasionally cause temporary shedding of some existing nearby hair shafts. They then regrow.
Before The Hair Transplant Procedure
In order for us to provide you with the highest quality medical care, the following instructions are important for you to follow:
If you are older than 45 years of age, we will require to receive your ECG (not older than two weeks) around two weeks before the date you're booked for.
14 days before your scheduled procedure do NOT take Aspirin or any other anti-inflammatory medications (Ibuprofen, Nurofen etc.) as they will increase bleeding.
14 days before your scheduled do NOT take tricyclic antidepressants, MAO inhibitors (Isocarboxazid, Marplan, phenelzine (Nardil, Nardelzine) tranylcypromine (Parnate, Sicoton), Deprenyl, selegiline hydrochloride, 5 HTP, Amitriptyline, Prozac, Wellbutrin, Buropion, Buropion HCL, Fluoxetin, EFFEXOR® XR, etc..), beta blockers(Propanolol, etc..), blood thinners.
14 days before your scheduled procedure do NOT take any multivitamins including vitamin E and vitamin B, any food supplements and herbal products (Gingko, etc.) as they will increase bleeding.
7 days before your scheduled procedure STOP using Minoxidil (Regaine, Rogaine)
7 days before your scheduled procedure try to avoid any drinking of alcoholic beverages
24 hours before your scheduled procedure try to avoid any smoking of tobacco products as smoking will slow down healing.
The morning of your procedure take a bath or shower and wash your hair thoroughly using regular shampoo. After shampooing, please rinse thoroughly and use a fresh clean towel to dry your hair.
The morning of your procedure do NOT apply sprays or gels to your hair. If you wear a hairpiece or a hair system, please make sure it's removed prior to your morning shower and not replaced before your procedure.
The morning of your procedure eat something light for breakfast, but do NOT drink any coffee or any other cafeinated beverages.
The morning of your procedure you're advised to wear a shirt that unbuttons or other clothing that is loose enough around the neck, to avoid accidentally touching your head while putting your clothes back on after the procedure.
What Happens After Hair Transplants
When considering having a hair transplant done, you will also want to take into consideration the hair transplant post op progress. This can be one of the most important factors in your decision to have a hair transplant.
Here at The Harley Street Hair Clinic our patients receive thorough post operative instructions to ensure you get the best results from your procedure.
Following your hair replacement procedure, you will be also given medications, such as a mild steroid (anti-swelling), a painkiller and an antibiotic (anti-infection). You will be also instructed when and how often to take them.
FUE is a minimally invasive hair restoration technique, but you still have to expect a bit of redness which will occur both in the recipient area and the donor area. It will disappear in a couple of days, depending on the individual's skin tone and healing process.
There is usually no pain after the procedure but you have to avoid touching and sweating excessively on your recipient site so it is best if you can take it easy for the first couple days after the procedure. Also be prepared for special hair washing instructions and advice on shampoos to use for the first 2 weeks in order to speed up the healing process.
 The cost of an FUE hair transplant is dependent on many factors including the overall complexity of the transplant, as well as other 'individual hair characteristics', including the amount of hair to transplant to achieve the patient's desired result. 
The planning of the procedure needs to include a review of the potential for further loss and how best to use the available donor hair for the patient's lifetime. 
The quickest way to find out how much your hair transplant will cost is to have a no-obligation, one-on-one consultation with one of our specialists.
How much does an FUE hair transplant cost? 
The price of a hair transplant will vary greatly depending on how much hair you need to have transplanted. For moderate hair loss, you can expect to pay between £3,000 and £9,000. However, if you have more extensive hair loss, an FUE hair transplant can cost between £5,000 and £15,000.
Still wondering exactly how much it will cost? Contact us for a one-on-one consultation. Every head of hair is different and every case unique, but you don't need to be on a football star's salary to afford a full head of hair.
How much does 1500 hair grafts cost?
Hair transplants are usually costed up by the number of grafts that are required for the transplant. Each graft usually costs around £3-£4. Therefore, a hair transplant that requires 1500 hair grafts will cost between £5,000 to £6,000.
Want to know how many grafts you'll need? Try the hair graft calculator →
Male Pattern Hair Loss 1

| Sessions | Grafts/Hairs | Cost |
| --- | --- | --- |
| 1 | 500/1200 | £3,000 – £5,000 |
| 1 | 1200/2880 | £5,000 – £9,000 |
---
Male Pattern Hair Loss 2

| Sessions | Grafts/Hairs | Cost |
| --- | --- | --- |
| 1 | 1200/3000 | £5,000 – £9,000 |
| 2 | 3000/7000 | £8,000 – £15,000 |
---
Eyebrow Hair Loss

| Sessions | Grafts/Hairs | Cost |
| --- | --- | --- |
| 1 | 200/450 | £3,000 – £5,000 |
| 1/2 | 400/900 | £5,000 – £9,000 |

The True Cost of Hair Transplantation
Although there is a higher cost attached to hair transplants than there is to other hair loss solutions, there is a lot to be said for the true cost of a hair transplantation. 
The emotional rewards 
The first is the emotional reward. Many people who experience baldness suffer more from a loss of confidence than anything else, no matter how minor the hair loss actually is. 
Although there are other methods to combat hair loss, such as wigs and hairpieces, these can often cover the hair loss but not change how confident you feel inside. Many people who are experiencing baldness feel as if they are carrying around a 'secret' that will be discovered at any time. Trying to hide this 'secret' with a wig or hairpieces often doesn't work. 
But having an FUE hair transplant provides a permanent solution to hair loss. There is nothing to hide, nothing to cover up. No secrets. Which allows you to return to your old self. Strong, confident and free. 
The most significant gains our hair transplant patients experience is a boost to self-confidence and freedom from the anxiety of hair loss.   
Check out our other case studies to see how we've helped people get their confidence back.
Case studies → 
A single payment
When comparing hair transplants to other methods of hair restoration or hair treatments, for example, topical treatments like Finasteride, or even hairpieces, hair transplants are always the most cost-effective. 
For the cost of a years' Finasteride treatment, you could get one FUE transplant that will last a lifetime – with no post-Finasteride Syndrome.  
Most clients have only 2 hair transplant procedures in a lifetime, with the second generally being to graft hair follicles in areas that the hairline receded to after the initial transplant. The hallmark of our work at the Harley Street Hair Clinic is providing a bespoke individualised treatment to ensure the procedure gives natural undetectable results that last a lifetime. 
Want to know how we can make a difference in your life? Contact us for a no-obligation consultation.