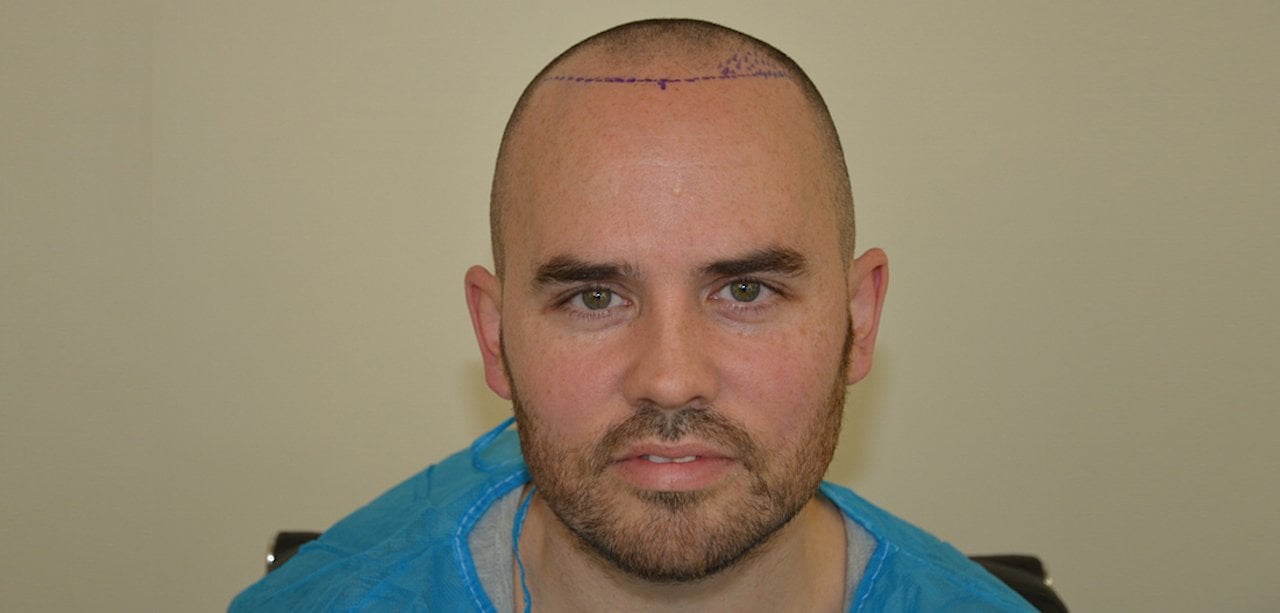 Jonathan Saccone-Joly is a high profile YouTuber and vlogger who shares every aspect of his life with his huge online community. The Saccone-Joly family document every minute of their lives, from preparing lunch to the birth of their children. When Jonathan came to the Harley Street Hair Clinic for an FUE hair transplant he didn't stop vlogging there, he documented every step of his journey with his viewers.
We're now 9 months on and we're amazed with the transformation that we wanted to share Jonathan's hair transplant Journey with you so that you can see the amazing results too!
Day of treatment
Jonathan's YouTube lifestyle results in him having a very social life. From meeting fans on the street daily to larger scale meet up events, Jonathan is always socialising with new people. Not only is Jonathan constantly on camera for his YouTube channel, but his Twitter and Instagram feed are full of photos of him meeting fans, an aspect of YouTube that he loves. However, Jonathan expressed that sometimes these photos would be a side shot making his receding hairline much more visible, this made Jonathan become more conscious of his hairline and pushed him to finally book a consultation with us – something he had been thinking of doing for quite some time.
Jonathan first became aware of his receding hairline at the age of 21. At the time he felt it made him look older which he liked. He found that the hair continued to recede whilst in his mid 20s until it finally jumped right back in his 30s. At this point Jonathan had accepted his hair loss but felt as if he was constantly aging because of it. He decided his only option was to shave his hair off to make the receding hairline unnoticeable.
A year prior to his procedure Jonathan was told about hair transplants but wasn't sure about the idea. After a lot of research and seeing some amazing results from high profile celebrities Jonathan decided it was time to book a consultation with us.
3 months on
When Jonathan attended his consultation at the clinic we assessed his hair loss and found that he suffered from male pattern baldness and he was left with a receding horseshoe shape hairline. Jonathan needed a hair transplant in order to fill in the missing hair at the front of his hair line.
Male pattern baldness is a common type of hair loss with men and our FUE hair transplant can work to fix this. However, not all cases are the same and different amounts of hair grafts are needed depending on how severe your hair loss is.
Our hair graft calculator can help you work out how many grafts you need.
5 months on
After assessing Jonathan's hair loss we decided that the best course of action would be for him to undergo a full FUE transplant procedure. This procedure involves taking donor hair follicles from the back and side of the head (where the hair is fuller) and implanting them at the front. This works to give a fuller and thicker hairline.
Every hair transplant is different, the procedure is the same but depending on how many grafts you need transplanted the length of the procedure can increase. Jonathan had 1856 grafts transplanted over a 2-day session. Where our team worked to restore density in the frontal-midsection and rebuilt the hairline.
6 months on
Why pick the Harley Street Hair Clinic
When Jonathan was researching hair transplant clinics he decided to pick the Harley Street Hair Clinic because other clinics used one doctor who was there initially for the consultation but then used a nurse for the actual transplant. Being that a hair transplant was a big move for Jonathan, something that would be with him for life, he wanted to pick the perfect clinic.
Jonathan loved that at the Harley Street Hair Clinic he would have a doctor perform the entire procedure and then stay with him for his whole journey. Jonathan's doctor did the whole 16-hour procedure with him and he left feeling as if they were 'best friends'. He expressed that it was an emotional time, going through such a great procedure and he loved that he was able to stay with the same person throughout.
9 months on