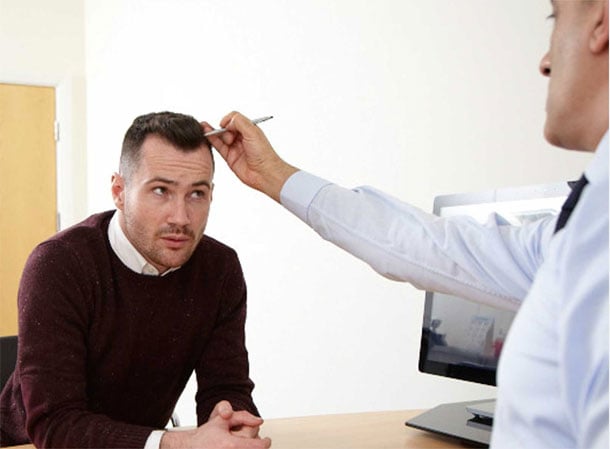 Getting a hair transplant is a big decision for a lot of people, it is a medical procedure and there are a lot of things you have to consider before getting one.
At the Harley Street Hair Clinic, the customer journey for us is one of the most important factors. We want to ensure you have the best possible aftercare and that you're correctly looked after, even after your transplant.
Unfortunately, there are some clinics in the world that seem very supportive before and during your hair transplant but sadly, they don't have the same level of support once you've left the clinic.
Today we're talking about the importance of good aftercare and how you can ensure you find the right clinic.
The importance of pre-op care with hair transplantation
Although we're discussing the importance of aftercare, it's also essential to consider the care you get before your hair transplant as this is just as important, it will also be a sign that you've found a good hair transplant clinic.
At the Harley Street Hair Clinic, we ensure all of our potential clients have a face-to-face consultation before their hair transplant. During this consultation, we'll spend time discussing your health and medical history – which could bring up issues that mean you're not a suitable candidate and will give us all the information we need to write out your tailored aftercare plan.
A hair transplant consultation also allows us to look at your hair loss and work with you to plan for future hair loss – ensuring your hair transplant looks good for years to come.
Aftercare at the Harley Street Hair Clinic
As mentioned previously, your aftercare starts during your consultation where we look at your health and medical history to tailor our entire process.
The aftercare for FUE hair transplantation, the only method of hair transplantation we use, is much easier to manage than older, outdated treatments such as FUT. This is due to the procedure being less invasive.
We make our post-operative care as straightforward as possible – whilst keeping to providing each patient with a bespoke regime. We require patients to take a 3-day course of antibiotics to minimise the swelling and reduce the risk of infections. Your surgeon will determine if you need any other medications by looking at any existing conditions, cause of the hair loss and other factors such as age – these are all discussed during your pre-op consultation.
Our team will provide you with specialist shampoo to help protect the health and environment of the transplanted hair and you'll receive a personalised plan which will have a detailed breakdown of what you need to do each day post-transplant.
Post-op contact with the clinic
Having a personalised aftercare plan that the clinic gives you is the absolute minimum you should get. The most important part of aftercare is the post-op contact you have with your clinic, this is what separates a good clinic and a great clinic. You want to find a clinic that books you in for post-op check-ups and contacts you to ensure you're getting on ok. We pride ourselves on our fantastic post-op care, our team are great at getting back to patients who may have concerns – we also have an out-of-hours number you'll be given so that you can always have peace of mind. It's really easy to find a clinic that will treat you well during your treatment but will not offer the aftercare you need, this is one reason its really important to research clinics when looking into medical tourism.
If you are considering booking a hair transplant today, please contact us for a no-obligation consultation where our team will be able to give you all of the information you need, including a full rundown of our aftercare process.