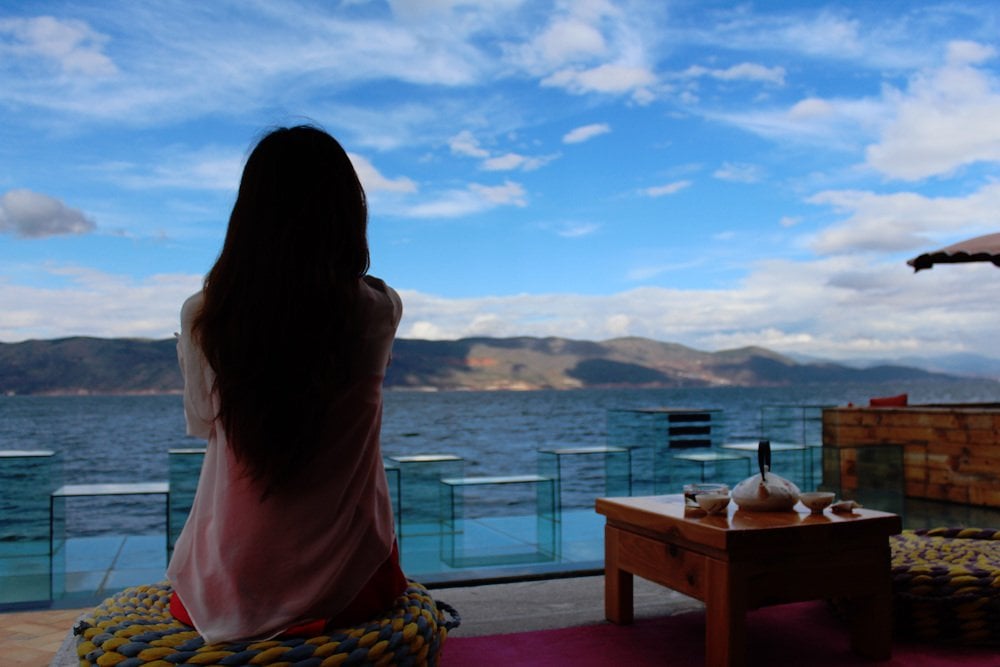 Previously receding hairline
Before coming out as transgender, Caitlyn Jenner – then known as Bruce Jenner – had noticeably thinning hair. Some media outlets even suggested that Caitlyn was using her stepdaughter Khloe's trick of using eyeshadow to fill in her receding hairline.
However, since transforming into Caitlyn Jenner, her hairline is looking very impressive and the infamous Bruce Jenner hair is no more. After being the cover star of Vanity Fair, her photos drew many compliments about her thick and lustrous hair, a far cry from what it was previously.
Some suggested that Caitlyn was using lace front wigs and hair extensions to get the length and volume of hair, many others have wondered about the possibility of Caitlyn having had a transgender hair transplant.
Jenner has neither confirmed nor denied hair transplant surgery, but there are other alternatives she could have undertaken to get luscious flowing locks.
Hair transplantation and gender transitioning
Females tend to have a much softer and lower hairline than men, and with male pattern baldness affecting 70% of the male population it can make achieving a feminine hairline difficult. Hair restoration procedures such as FUE hair transplantation can be used to build upon and create a different hairline, which, can help those in the transitioning process.
A transgender hair transplant is a treatment used for those suffering from hair loss, the treatment works by transplanting hair from one area of the scalp to a thinning area of the scalp. The treatment is often used to help with the appearance of a receding hairline. Our doctors are able to create a natural and realistic looking head of hair, whilst ensuring the transgender hair regrowth looks fuller and natural.
As hair transplants are often used to build upon a receding hairline to bring it back and give you a youthful appearance it can also help change the appearance of a hairline – something that can help those transitioning from male to female.
Our doctors use the revolutionary FUE procedure to build a more feminine hairline when performing a transgender hair transplant. Once the hair is transplanted it will begin to grow, just like your normal hair. After 6-12 months, you'll start to notice the results and see a more feminine hairline as your transgender hair regrowth begins to occur.
Transgender hair loss treatments
Male-to-female transgender women are able to use clinically proven male hair loss treatments to combat their hair loss. This is because treatments are linked to birth gender to determine genetic suitability.
Caitlyn was known to take hormones, so the idea of her using hormones to help her hair is not farfetched. However, hormones are very interlinked and the complex relationship between them is not fully understood.
Many male-to-female patients will typically take oestrogens but can also be taking antiandrogens like cyproterone acetate. Many doctors will think that this is enough to stop further male pattern hair loss – but this is not always the case.
Oestrogen and dihydrotestosterone (DHT) are very closely related, and it is DHT that causes male pattern balding. While less testosterone is produced, it can still be enough to produce enough DHT to cause further male pattern baldness – so blocking the DHT can sometimes still be required.
However, those who are fully female-to-male transgendered can use high strength minoxidil to regrow their hair. Hair growth boosters are suitable for both groups.
How can a hair transplant help me when transitioning?
A hair transplant is a hair restoration treatment traditionally used for those suffering with hair loss. The hair transplant process works by transplanting hair from one area of the head to a thinning area of the head, often used to help with the appearance of receding hairlines.
Hair transplants can also be used to help change the appearance and build upon an already existing hairline, something that can help those transitioning from male to female. As mentioned previously, the female hairline tends to be much lower down and softer compared to the male hairline. With the revolutionary FUE hair transplant procedure, it would be possible to transplant hair from areas such as the back and side of the scalp and work towards creating a softer hairline.
Once the hair is transplanted it will begin to grow just as your normal hair; this will in the future result into a much more feminine hairline. It has been thought that Caitlyn Jenner had a hair transplant when she was transitioning resulting in a soft and feminine hairline.
Stress-related hair loss
Those who choose to undergo gender reassignment surgery can also experience diffused hair loss. This is due to the stress caused by the surgery – a process called telogen effluvium.
Caitlyn has been very public about her surgeries, including various facial surgeries such as rhinoplasty, cheek implants and a surgery to reduce the size of her Adam's apple.
However, these surgeries can be very intense, and this could have been the cause of her thinning hair. Telogen effluvium is known to last up to 12 months, but the hair regrows naturally after the body has recovered from the shock of the surgery.
Getting the hair you want
 If you're worried about the effect that either gender reassignment surgery or hormone therapy could have on your hair – why not come in and see one of our hair loss specialists?
We'll be able to advise you on the best course of action, whether that means another hormonal treatment to prevent hair loss, or even hair transplantation surgery to create a more natural hairline, we're here to help. If you would like more information on our hair transplant procedures please feel free to contact us for a no obligation consultation