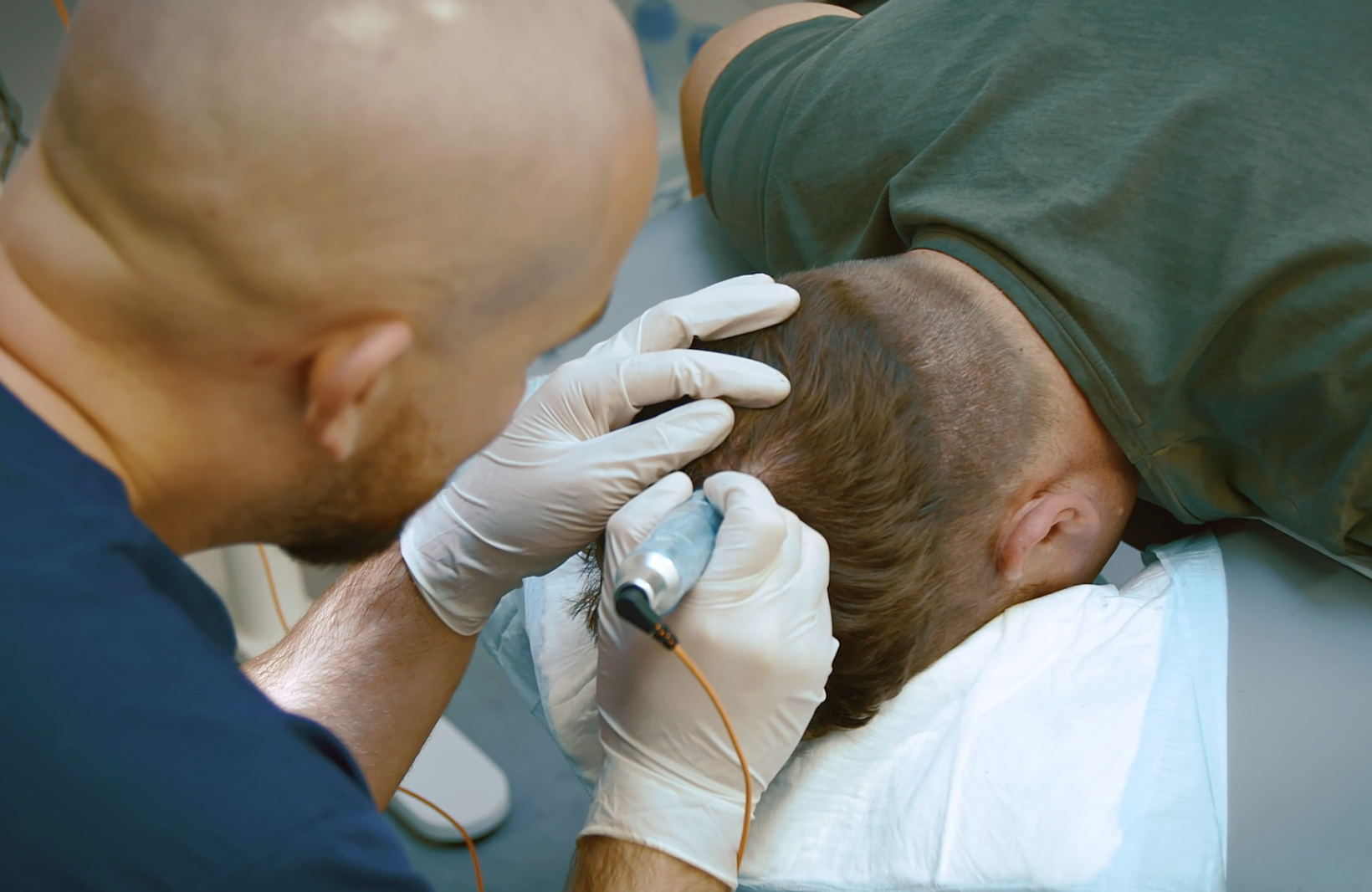 ATP or advanced tricho pigmentation is the latest treatment offered at the Harley Street Hair Clinic. We receive a lot of different questions about our hair restoration treatments, but something everyone worries about and wants to know is – will their treatment look natural?
Today we're walking you through our ATP treatment to let you know how we ensure your results are natural.
What Is Advanced Tricho Pigmentation?
ATP is a pigmentation delivery system that is used to build the appearance of hair on the scalp or the face. The treatment was designed to replicate the appearance of natural hair follicles and fine hair strokes.
Unlike other methods of hair restoration, such as an FUE hair transplant, ATP can dramatically change the appearance of those with little to no hair. Our team of experts work to firstly create a natural and realistic looking hairline and use the pigmentation to create the appearance of tiny hair follicles all over the scalp, the end result produces the appearance of a full head of closely shaven hair.
How does Advanced Tricho Pigmentation Work?
ATP at the Harley Street Hair Clinic works in a similar way to other pigmentation deliver systems – such as scalp micro pigmentation (SMP). Our advanced and revolutionary procedure was built from the ground up with the sole purpose of replicating hair, unlike other treatments that were simply modified to do this. The treatment works in a similar way to a tattoo where pigmentation is delivered to the dermal layer of the skin.
With the use of the best equipment and staff, we can produce natural and realistic looking results.
Will Advanced Tricho Pigmentation Look Natural?
Yes – your ATP treatment will look natural. We start conservatively in terms of all aspects, this allows us to avoid any unnatural or unwanted flaws and the pigment is then built up to the clients desired results. We can use ATP to add density to those with thinning hair, and we can also build a natural hairline and the appearance of a full head of closely shaven hair for those with little to no hair.
Our treatment looks natural and realistic. Over the course of three sessions, ATP will build on the tone, density and shape of your treatment. This means you'll leave with a natural and realistic looking hairline, as well as ensuring the pigment is the perfect colour for your hair type and skin tone – making the hair look real to the naked eye.
We only employ the most highly skilled practitioner's and the best equipment possible to ensure our results are of the best standard. You can see some of our cases studies here.
If you would like more information on our ATP procedure, please contact us today for a no obligation consultation.