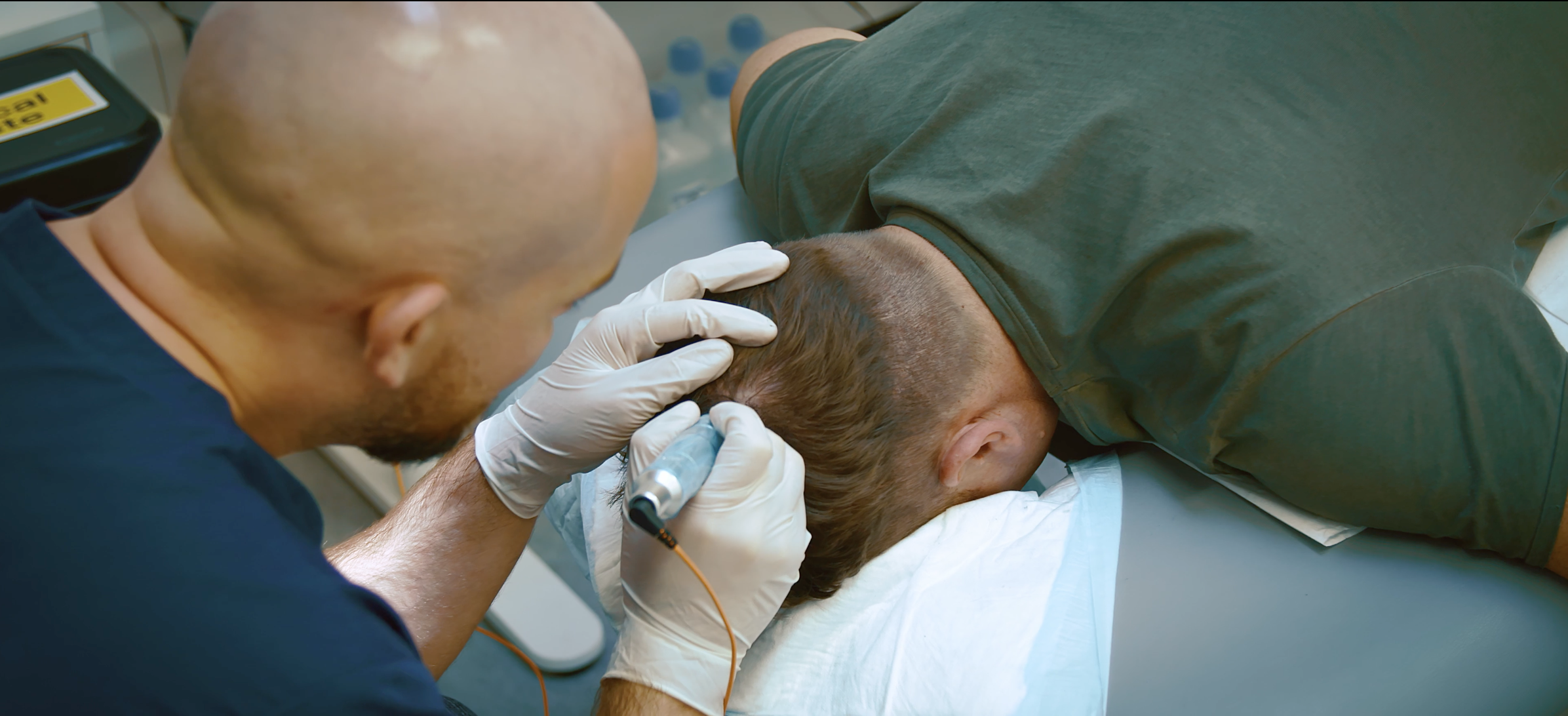 Over the last year, we have performed a number of different hair restoration treatments on a number of different clients. In 2017, we saw some amazing results from both our FUE hair transplant procedure and our Advanced Tricho pigmentation treatment and we want to show you a roundup of 2017 at the Harley Street Hair Clinic.
Spex's Advanced Tricho Pigmentation Treatment
Spex, a leading blogger who specialised in all topics related to hair loss visited us last year wanting to add the appearance of density to his hair after having a hair transplant some years ago. With the use of our Advanced Tricho Pigmentation treatment, we were able to add density to areas of the scalp where the hair was lacking volume.
We also used our ATP treatment to cover scarring left behind from strip hair transplantation. After trailing other treatments and hair styles Spex decided that ATP was the most permanent solution to cover the scarring. The end result left him with fuller looking hair and disguised his scaring.
Mitch's FUE Hair Transplant Treatment
Mitch, a 32-year-old business owner from Essex, came to the clinic after experiencing hair loss from the age of 24 and looking into other hair restoration methods such as FUT or 'strip harvesting' procedures.
After seeing some of our results Mitch decided FUE was the right treatment for him, his treatment was over two days and 2050 grafts were transplanted to achieve a natural and fuller looking hairline. Mitch thought he was a confident person before his procedure but he instantly saw his confidence and happiness grow when he started to see his results come through.
Davide's Advanced Tricho Pigmentation Treatment
Davide is a personal trainer from London, he visited the clinic last year. Davide had very little hair and expressed that he spent years trying to mask his hair loss until he eventually gave up and decided the best thing to do was shave his head.
His hair loss was affecting his confidence which is why he decided to visit us at the clinic. Together we decided that our advanced tricho pigmentation treatment was the best treatment for him. Having a full scalp of ATP completely changed Davide's appearance. We worked towards building a full head of closely shaven hair, and he was extremely pleased with his results.
Paul's FUE Hair Transplant Treatment
As an actor, Paul felt pressured to look his best and was first introduced to the Harley Street Clinic by an agency to take part in some lifestyle photos. It was then that Paul saw how a hair transplant worked and could transform his hair.
Paul felt that his current hairline was making him look older than his actual age, something that was causing him to miss out acting opportunities. With the use of our FUE hair transplant, we were able to restore areas of the hairline that were receding. The results showed a natural and realistic result that Paul was more than happy with.
If you would like any more information on our treatments or what results we could produce for you please contact us for a no obligation consultation today.