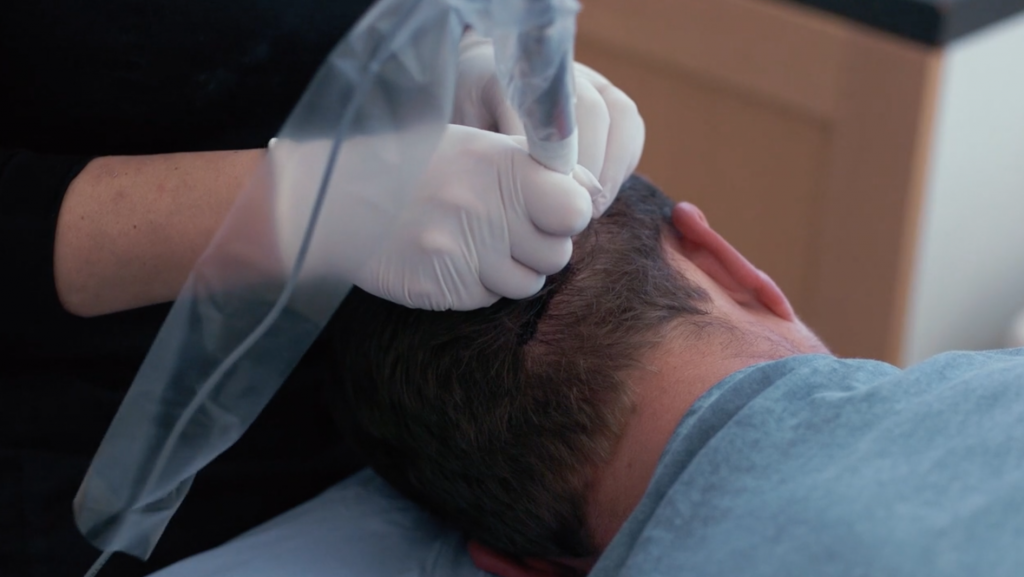 Advanced Tricho Pigmentation is a revolutionary treatment offered exclusively at the Harley Street Hair Clinic. As our treatment is still relatively new we get asked a lot of questions about it and today we're letting you know if it's the right treatment for you.
What is Advanced Tricho Pigmentation?
Advanced Tricho Pigmentation (ATP) is a revolutionary pigmentation delivery system offered exclusively at the Harley Street Hair Clinic. The system is used to replicate the appearance of natural hair follicles, and can also be used to replicate natural hair strokes for areas such as the brow. The process works in a similar way to other treatments such as scalp micro pigmentation (SMP).
ATP is similar to other treatments currently available on the market, however, our treatment is more advanced and offers the most natural and realistic results possible. The treatment can produce the appearance of a close shaven head and can produce natural looking brows.
How does Advanced Trico Pigmentation work?
The best way to describe how advanced tricho pigmentation works is that it is very similar to a tattoo. The pigmentation delivery system uses only natural pigments, which we can apply, to the scalp or brow area. Our advanced team work to replicate the appearance of hair follicles on the scalp or natural hair strokes on the brow area.
Tiny amounts of pigment are deposited to the scalp or brow area, the pigment is positioned within the dermal layer of the skin and we have options for both semi-permanent and permanent. Once the pigment is applied to the skin you will instantly see results that mimic real hair.
Our advanced tricho pigmentation system was designed from the group up with the purpose of replicating hair. Other systems have simply been altered and then used to tattoo hair strokes to the skin. As our system has been precisely engineered for the purpose of hair restoration it gives the most natural looking results against all other pigmentation treatments.
Am I the right candidate for Advanced Tricho Pigmentation?
Advanced Trico Pigmentation can be used for a variety of different clients, we can use the treatment to replicate the appearance of a close shaven head for those who have little hair and could not opt for a treatment such as a hair transplant.
We can also use advanced tricho pigmentation on those with a fuller head of hair but feel like it is thinning slightly. Advanced tricho pigmentation can be used to build a little bit of colour and definition on areas of the scalp where the hair is thinning.
Advanced tricho pigmentation is also an amazing treatment for the brow area. It can be used for those with very little to no brows, we can create a natural and realistic brow and also use the treatment to fill in any gaps and make existing brows look fuller and more defined.
If you would like more information on Advanced Trico Pigmentation treatment please contact us for a no obligation consultation today.